JX-Series Pay Station
Car Wash Pay Stations
The JX-Series pay station is our most feature rich pay station. It's the perfect solution for your high volume car wash and is equipped to handle EMV credit/debit, Tap-&-Pay, & cash payments. Gift cards can be purchased and loaded directly at your pay station so they have no value until purchased! Your pay station is sure to grab your customers' attention with large LED light bars!
Request A Quote
Compare Models
USB Plug-&-Play Hardware.
Integrated RFID Technology.
EMV Tap-&-Pay Hardware.
Durable Touch Screens.
Accepts Multiple Payment Methods.
Climate Controlled.
Dispense Gift Cards.
Rugged Powder Coating.
Pairs With Gates.
License Plate Recognition.
LED Light Bars
Barcode Reader.
USB-PLUG-&-PLAY HARDWARE
Easily swap & replace hardware!
JX-Series Pay Station Features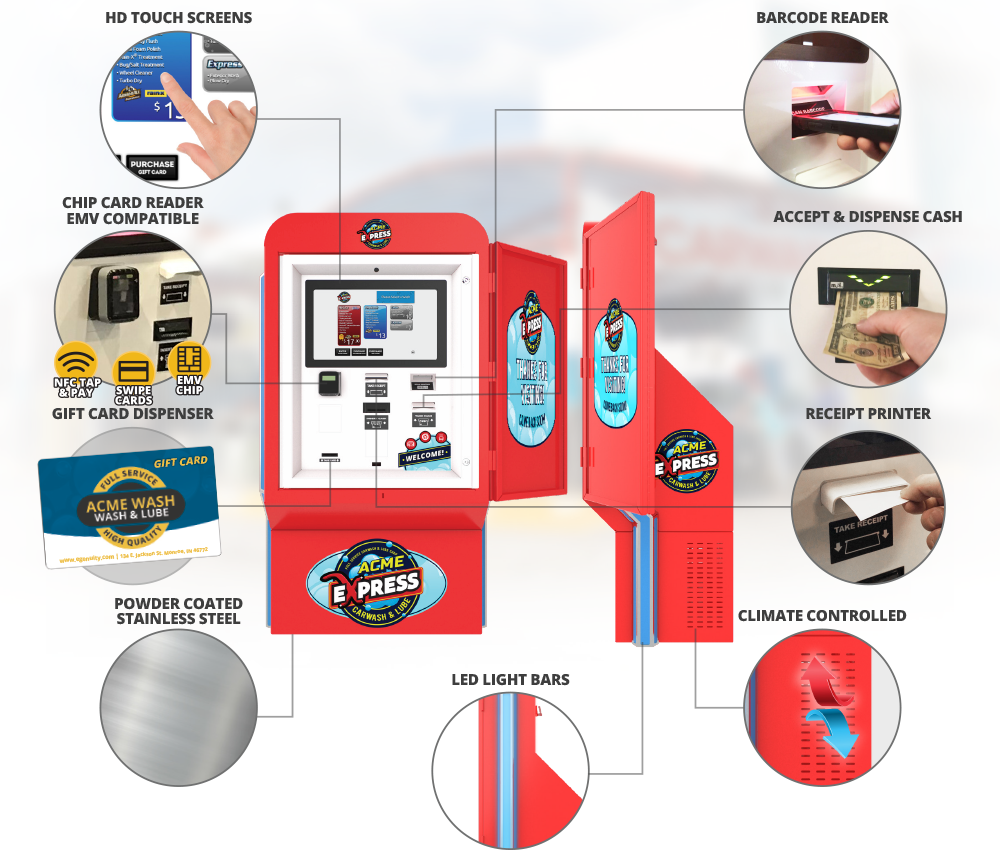 USB Plug-&-Play
Swapping hardware has never been easier! No Technicians required!

EMV Devices
Secure EMV payments, Tap-&-Pay payments, Google Pay, & Apple Pay ready!

Cash Handling
Smartly handle cash. The recycler will accept, store, and dispense cash.
Pay Station Software
Our kiosk software is a robust, cutting edge technology wrapped into an interface that is simple for your customers to use. Sell standard washes, gift cards, unlimited monthly passes, display ads, charge fleet accounts, email customer receipts, reward loyalty customers, instantly recognize unlimited monthly pass customers, accept coupons, and MUCH more! Need something special? We can build special features for your business needs. Call us today to discuss our kiosks' unlimited potential!
Sell washes, services, & more.
Sell unlimited monthly passes.
Sell & redeem gift cards.
Add custom video.
Add custom audio.
Email Receipts.
Reward & redeem loyalty.
Scan & redeem coupons.
Easy for fleet accounts.
Flexible options.
Custom branding.
Add an unlimited amount of washes, services, & items.
& MORE.
Compare Pay Station Models
Contact us so we can discuss the perfect pay station for your individual needs!
Contact us today!
JX-Series
J-Series
C-Series

JX-Series

Pay Station

J-Series

Pay Station

C-Series

Pay Station

Key Features
USB Plug-&-Play Hardware
21.5" HD Touch Screen
-
-
17.5" HD Touch Screen
-
EMV Tap & Pay
Cash Acceptor & Dispenser
-
Gift Card Dispenser
-
LED Lighting
-
Barcode Reader
Receipt Printer
Proximity Sensor
Climate Control Unit
Camera
Contact Us
Contact Us
Contact Us
Ready To Talk About Your Solution?